October 10th, 2016 by econ-network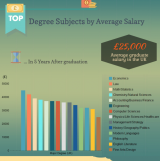 The Market Inspector blog has posted an infographic to answer the question "what degree subject is most likely to get you hired with a good salary?" Using data from emolument.com, they found that economics comes out top of subjects taken in the UK, going by average salaries five years after graduation. This won't be a surprise if you've read our previous posts on the topic.
The infographic gives another statistic that we hadn't heard: eight percent of the world's billionaires took degrees in Economics!